Partner for secure email
23/09/21 15:40 Filed in:
News
The Volla Phone promises users the freedom to determine with whom they share what data and when. An essential aspect is secure communication protected from surveillance and theft of confidential information. For this concern, we welcome StartMail as an encrypted messaging partner, combining simplicity and security in line with our Volla OS.
StartMail
is an email service primarily accessible through a web browser. Unlike alternatives such as Tutanota, however, it is also possible to integrate an email program via the IMAP standard. The web application makes it as easy as possible to use high-level encryption with the proven and open
PGP standard
. For this, the company from the Netherlands worked closely with the inventor Phil Zimmermann.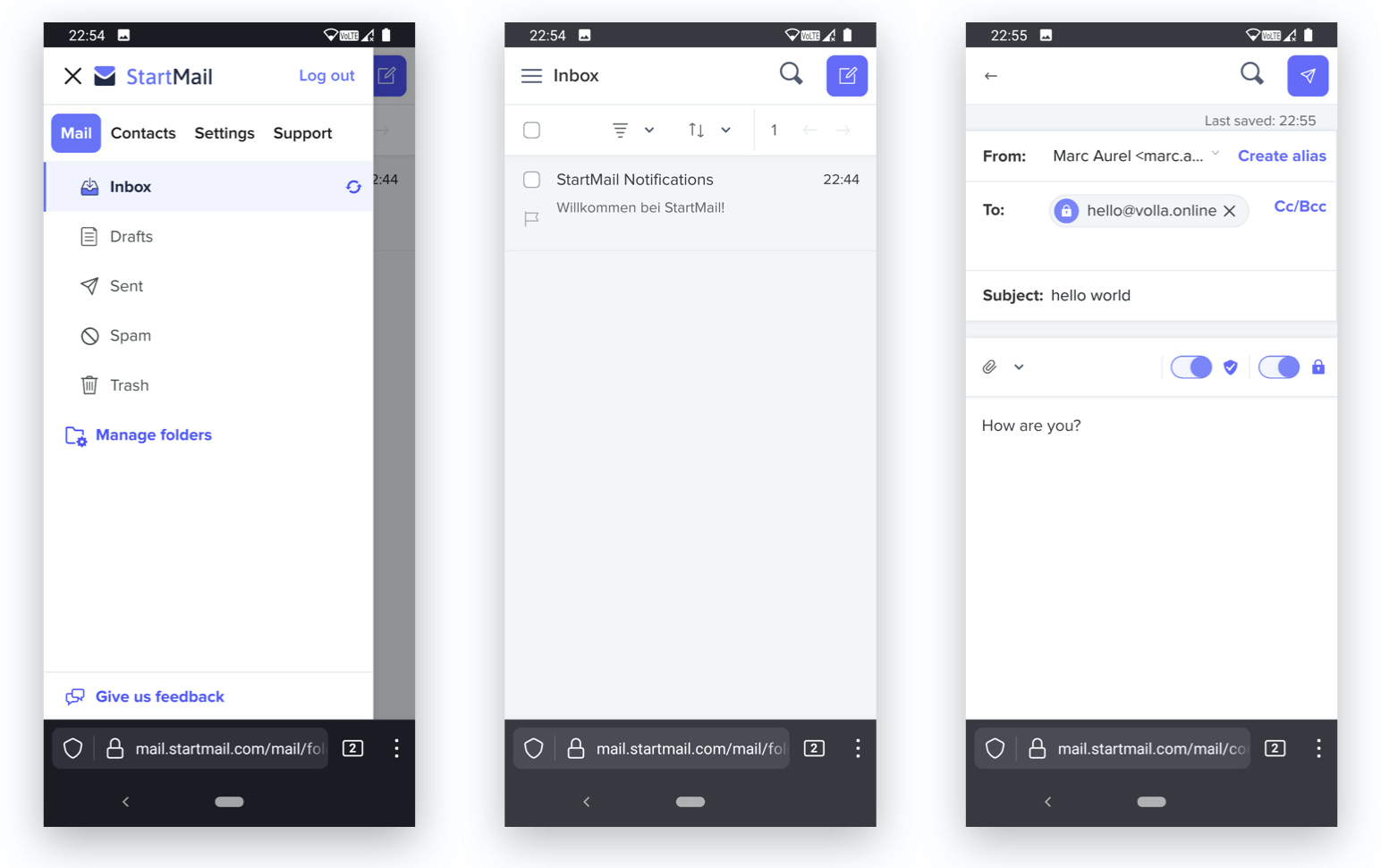 All messages that the user writes, including drafts, are stored in an encrypted, secure area (User Vault). This also applies to messages that the user uses encrypted. To exclude potential security gaps in browsers, the service provider has chosen to perform the encryption on the server and not in the browser. For more technical information, see their
Technical White Paper
.
Data protection only applies to the metadata that is technically necessary for sending and receiving messages. If you use an address that does not reveal the name of the sender or recipient, you can make your communication anonymous. A special feature of StartMail is the hiding of the IP address in the metadata, so that no third party can infer the location of the user.
"We do not send data to U.S. entities," StartMail's leadership confirms. By being located in the Netherlands, the company is not only subject to the European General Data Protection Regulation, but a currently liberal national legislation.
Another advantage is that deleted data is really deleted. After a few days, those deleted messages are even removed from the backup copies in StartMail's data center. This is a big difference from market leaders, whose email service is part of an extensive cloud service and falls in the area of so-called Big Data. In bulk data processing, it is technically impossible, or only possible with great effort and time delay, to delete data. At the user's request, these are usually only marked as deleted and no longer displayed.
Because StartMail does not earn money from the data of the users, StartMail is chargeable. However, interested parties can try out StartMail for seven days free of charge. We recommend the service to protect e-mail communication as well and are working with StartMail on a special offer for all Volla users.
In order to support privacy consistently, the payment system with customer data and the actual e-mail service are separated from each other. For the future, StartMail is also thinking about accepting cryptocurrency. This is already possible today, but not via the regular registration process. Interested parties can write to customer service for this.
"So much of privacy is lost through the use of our mobile phones. With the Volla phone, people finally have a way to start taking back control of their mobile data. Private email provider StartMail is proud to become Volla's email partner in the Alliance for Freedom." says Startmail's CEO Robert E.G. Beens. "We share the same privacy mission and look forward to offering email to Volla phone users".
Order now your Volla Phone in our online shop.