Partner for an anonymous search
23/09/21 15:40 Filed in:
News
The springboard of Volla OS is the quick start for all important everyday functions of the Volla Phone. This includes searching the Internet. Users can now choose between different search engines. With Startpage and MetaGer, Volla has found two strong partners for this, which not only consistently protect privacy, but also offer added value in terms of quality.
If you swipe twice to the right from the springboard, you will find a new setting for the search since a few weeks. Here, the user can specify whether
DuckDuckGo
,
Startpage
or
MetaGer
should be used when searching via the springboard.
With Volla Phone, we want to offer a simple and secure alternative to Apple and Google. For this we are working with partners. They make ed possible to realize our goal as an independent startup. Recent partners include Startpage and MetaGer, which offer a secure alternative to the leading search engines.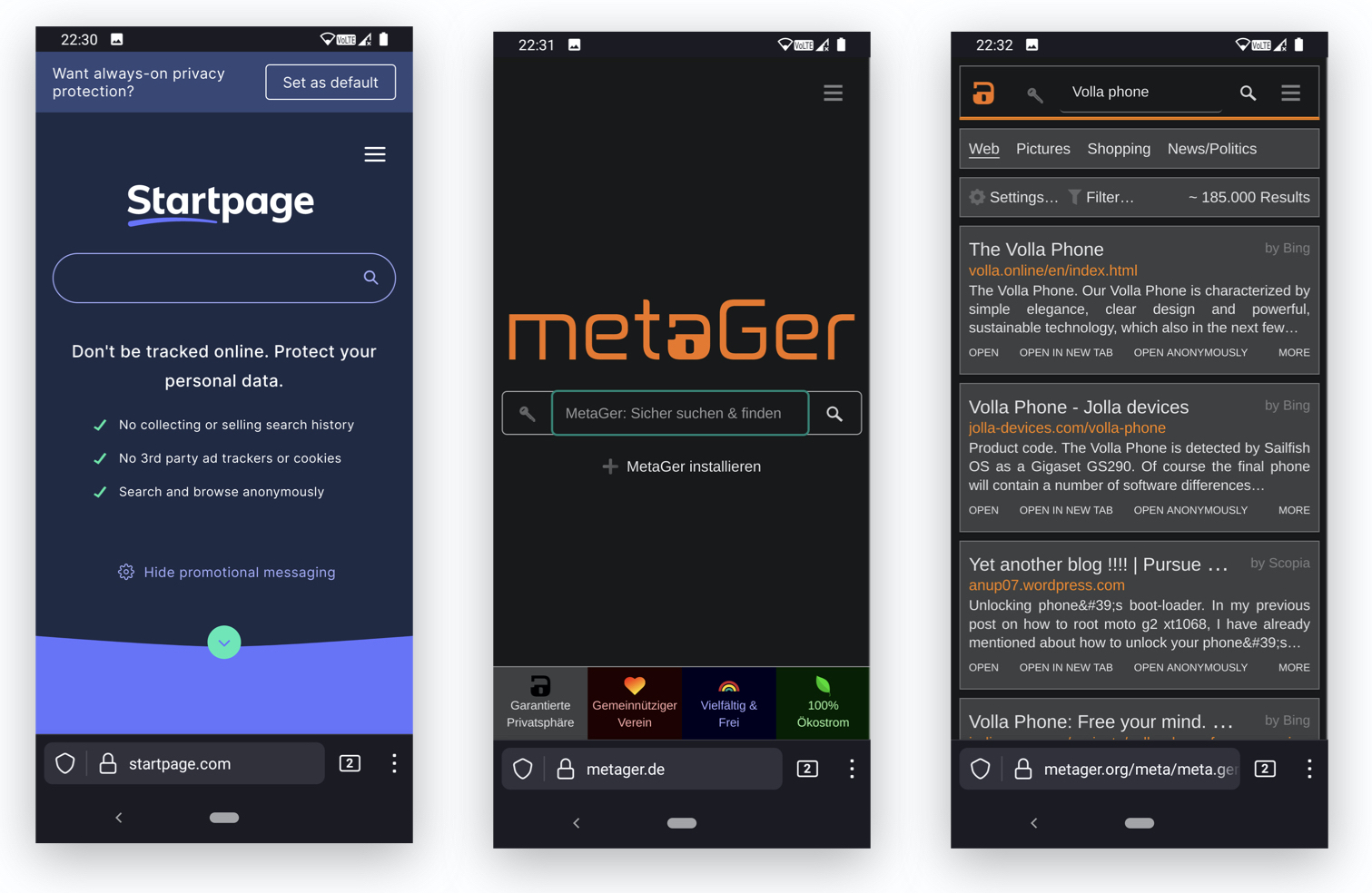 Startpage.com
Behind the Startpage search engine is the Startpage BV company from the Netherlands, which is also committed to the freedom and self-determination of people using products and services in the digital world.
On Startpage.com, visitors can not only search anonymously but also call up the search results anonymously. In this way, the search engine consistently protects the privacy of visitors and goes beyond other comparable offerings. Although Startpage uses Google's search index, the anonymization of search queries means that Google cannot record a visitor's search history and calculate a statistical user profile. Startpage does not collect this data either.
The anonymous search has another advantage: Google cannot adjust the search results to any search history or profile. Accordingly, the user does not receive results that have been modified by a profile. Rather, he can better control them by choosing and combining keywords. The alternative DuckDuckGo, which also offers an anonymous search, relies on the search index of Bing, Microsoft's search engine.
Integrating an anonymous search into Springboard offers several advantages for the user. In addition to protecting their privacy and getting more neutral results, users can quickly find an answer to a question on the fly without opening the browser. At the same time, Startpage is "intelligent" enough, for example, to display an overview of the weather forecast in first place for a query such as "Weather Berlin".
For Startpage, the partnership with Volla represents an ideal mutual complement. "With the increased use of cell phones, a lot of privacy is being lost," explains CEO Robert E.G. Beens, "With the Volla phone, there is finally a way to take back control of our cell phone data. Startpage is very excited to be available as the default search engine on Volla. Our partnership is an ideal, mutual fit in this regard." Startpage and Volla shared the same privacy mission and together can offer their customers a unique and truly anonymous search experience.
Startpage is funded solely by contextual advertising. User data or profiles are not required for this. Only the search queries are decisive.
MetaGer.de
In 1996, the German meta search engine started at the University of Hanover, which has been operated by the non-profit association SUMA e. V. since 2004. SUMA simply stands as an abbreviation for search engine. Unlike the market leaders, a meta search engine combines several search indexes as a data source for a search query. In the case of MetaGer, this primarily includes the search index from Bing, but also from media such as Zeit Online and completely different approaches such as the peer-to-peer search from
Yacy
.
In order to bring the search results from different sources into a balanced order, MetaGer provides the relevance of the results with a factor depending on the source. Users can also search specifically in a selection of sources, for example for a science search. User profiles do not come into play here either.
"Digital technology, especially when it is as fundamental as a search engine, should be free and independent of commercial and governmental interests," says Manuela Branz, spokesperson for SUMA e. V. Because of the association's non-profit status, MetaGer is independent of the need to make a profit and goes beyond simply operating the search engine. SUMA e. V. regularly awards grants on the subject of Web search. These do not always have to be technical topics. One of the papers dealt with the influence of political advertising in search engine results.
The philosophy fits perfectly with the motivation behind the Volla Phone and Volla OS. Users should have the choice to decide where they get their information. And without the observation and judgment of third parties. That choice is part of the freedom Volla wants to offer. "With us, you retain full control over your data. We don't track. We don't store." explains Dominik Hebeler, executive board member of SUMA e. V..
The association already expanded its activities in the past to include the promotion of media literacy: How do search engines work? It is important to understand that search engines are not neutral, but always need an algorithm to prefer results to others.
"We promise to open up new user groups," Branz sums up. The Volla team is looking forward to working with the new partners.
Order now your Volla Phone in our online shop.